The American Association of Orthodontists recommends that all children see an orthodontist by at least age seven and sooner if something is obviously wrong before age seven. Fortunately, most young patients don't need anything more than observation while the permanent teeth are growing into place.
Many young patients have problems, which will not, or should not wait. Most orthodontic problems are inherited and cannot be totally prevented; however something can usually be done before these problems become more difficult and more expensive to manage.
It is advisable to consult with an orthodontist prior to having your dentist remove any baby teeth or permanent teeth. To ensure the best overall dental and facial development, all patients should have an orthodontic consultation sometime between the ages of four and seven.
Dr. Bock offers early examinations and observation consultations. Contact us to schedule a complimentary consultation.

Classifications of Teeth
The classification of bites is divided into three main categories: Class I, II, and III. This classification refers to the position of the first molars, and how they fit together.
Class I
Class I is a normal relationship between the upper teeth, lower teeth and jaws or balanced bite.



Class I normal





Class I crowding


 


Class I spacing

 

Class II

Class II is where the lower first molar is posterior (or more towards the back of the mouth) than the upper first molar. In this abnormal relationship, the upper front teeth and jaw project further forward than the lower teeth and jaw. There is a convex appearance in profile with a receding chin and lower lip. Class II problems can be due to insufficient growth of the lower jaw, an over growth of the upper jaw or a combination of the two. In many cases, Class II problems are genetically inherited and can be aggravated by environmental factors such as finger sucking. Class II problems are treated via growth redirection to bring the upper teeth, lower teeth and jaws into harmony.
 
Class II division 1


 

 
Class II division 2


 

Class III
Class III is where the lower first molar is anterior (or more towards the front of the mouth) than the upper first molar. In this abnormal relationship, the lower teeth and jaw project further forward than the upper teeth and jaws. There is a concave appearance in profile with a prominent chin. Class III problems are usually due to an overgrowth in the lower jaw, undergrowth of the upper jaw or a combination of the two. Like Class II problems, they can be genetically inherited. Class III problems are usually treated via surgical correction of one or both jaws.
 
Class III functional or dental


 

 
Class III skeletal


 

Orthodontic Problems
 
Overjet
Upper front teeth protrude



 

 
Deep bite
Upper front teeth cover lower front teeth too much


 

 
Underbite
Lower front teeth protrude



 

 
Open bite
Back teeth are together with space between the front teeth



 


Crowding
Upper and/or lower teeth are crowded



 


Excess Spacing
There is excess space between teeth



 


Mid-Line Misalignment
Mid-lines of upper and lower arches do not line up


 


Crossbite
Upper back teeth fit inside lower teeth



Phases of Treatment
Phase I: Treatment usually takes 12 to 18 months and is done between the ages of 7-9. A variety of appliances may be used to correct specific problems.

Maintenance / Recall Phase: During the time between the first and second phase the patient will be seen every few months per year. This is to monitor the eruption of the permanent teeth and exfoliation of primary teeth.

Phase II (if required): During the first phase of treatment Dr. Bock has no control over 16 unerupted permanent teeth. If they grow in and problems still exist, further treatment, known as Phase II, will be required. A separate fee will be quoted at that time. Treatment usually takes 12-24 months.

Full Treatment: If you decide to wait, treatment will be started when all permanent teeth have erupted. Full treatment usually takes 18-30 months. The length of treatment depends on the severity of malocclusion and orthodontic problems.

Proper Braces Care and Brushing Techniques
Brushing and flossing your teeth can be challenging when wearing braces but it is extremely important that you do both consistently and thoroughly.

Foods to Avoid During Treatment: Eating proper foods and minimizing sugar intake are essential during orthodontic treatment. Your braces can be damaged by eating hard, sticky, and chewy foods.
Hard foods : Nuts, Candy, Hard Pretzels
Crunchy foods : Popcorn, Ice, Chips, etc.
Sticky foods : Gum, Chewy Candy (Skittles, Taffy, Gummy Bears, Caramel, etc.)
Chewy foods : Bagels, Hard Rolls, etc.
Foods you have to bite into : Corn on the Cob, Apples, Carrots (cut these foods up into smaller pieces and chew on back teeth)
Chewing on Hard Objects (for example, pens, pencils or fingernails) can damage the braces. Damaged braces will cause treatment to take longer.
Hard Foods

Soft Foods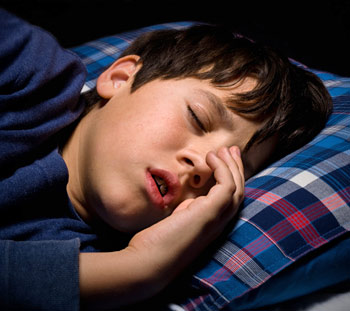 The number of children diagnosed with Attention Deficit Hyperactivity Disorder (ADHD) has been steadily increasing over the past decade. Yet according to a recent study, many children diagnosed with this condition don't really have it; their behavioral problems are actually related to sleep-related breathing disorders (SRBD), such as sleep apnea.
The 2012 study, published in the journal Pediatrics, followed more than 11,000 children for six years, starting when they were 6 months old. The children who had SRBD were 40 percent to 100 percent more likely than kids without breathing issues to develop behavioral problems resembling ADHD by the age of 7. So if your child is exhibiting ADHD-like symptoms — or has even been diagnosed with ADHD — it's worth considering whether interrupted sleep might be an issue.
It makes perfect sense when you think about it: A well-rested individual, young or old, can function a lot better on a good night's sleep. Yet a lack of sleep affects adults and children differently. While sleepy adults tend to act sluggish and drowsy, sleep-deprived kids are more likely to become hyperactive, uncooperative and unable to focus — just like kids with ADHD.
So what exactly is SRBD?
The condition is characterized by recurrent episodes of interrupted breathing during sleep. The child's airway becomes blocked by soft tissues near the back of the throat — tonsils or the tongue, for example — that partially close off the windpipe. These tissues can vibrate as air passes by, causing snoring. It's often worse while sleeping on one's back because this encourages the lower jaw to slip back, which in turn pushes the tongue in front of the airway.
Overweight children have a higher incidence of sleep apnea due to fatty tissue deposits in the soft palate, which decrease the size of the child's airway.
Does your child have a sleep-related breathing disorder? You can gather clues to report to your health professional by observing your child sleeping. Look for the following signs:
Snoring
Pauses in breathing
Chronic mouth breathing
Constant tossing and turning
Night panics
Bed-wetting
How is sleep apnea treated in children?
There are various treatments that can be very effective, depending on the cause. Enlarged tonsils and adenoids can be surgically removed. A therapy known as Continuous Positive Airway Pressure (CPAP) involves the use of a machine that delivers mild air pressure through a mask worn during sleep to keep the airway open.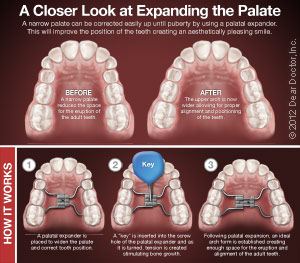 Dentistry also can also play a role in treatment. For younger children who are still growing, the use of an orthodontic appliance called a palatal expander has proven helpful in some cases. A palatal expander gently widens the roof of the mouth (palate) over time by separating bones that don't permanently fuse together until puberty. It's most often used to create more room for crowded teeth, but the expansion can also increase airflow.
Older children who have stopped growing can sometimes benefit from Oral Appliance Therapy (OAT). This involves wearing a custom-made oral appliance designed to reposition the jaw during sleep so that the tongue is held away from the back of the throat, reducing the potential for obstruction.
The first step is to figure out what's keeping your child from getting the restful sleep that's so crucial to good health and well-being. For that to occur, and for your child to receive the best treatment, you will need to see a trained professional.
Related Articles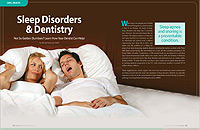 Sleep Disorders & Dentistry If my partner snores loudly, should I be concerned and what can be done to alleviate the problem? Why does my sleeping partner have lapses in breathing while sleeping and is it dangerous? Why do I wake up exhausted even though I get up to 10 hours of sleep at night? The answers to these and other questions — and how dentistry can help — are all revealed within... Read Article