The American Association of Orthodontists recommends that all children see an orthodontist by at least age seven and sooner if something is obviously wrong before age seven. Fortunately, most young patients don't need anything more than observation while the permanent teeth are growing into place.
Many young patients have problems, which will not, or should not wait. Most orthodontic problems are inherited and cannot be totally prevented; however something can usually be done before these problems become more difficult and more expensive to manage.
It is advisable to consult with an orthodontist prior to having your dentist remove any baby teeth or permanent teeth. To ensure the best overall dental and facial development, all patients should have an orthodontic consultation sometime between the ages of four and seven.
Dr. Bock offers early examinations and observation consultations. Contact us to schedule a complimentary consultation.

Classifications of Teeth
The classification of bites is divided into three main categories: Class I, II, and III. This classification refers to the position of the first molars, and how they fit together.
Class I
Class I is a normal relationship between the upper teeth, lower teeth and jaws or balanced bite.



Class I normal





Class I crowding


 


Class I spacing

 

Class II

Class II is where the lower first molar is posterior (or more towards the back of the mouth) than the upper first molar. In this abnormal relationship, the upper front teeth and jaw project further forward than the lower teeth and jaw. There is a convex appearance in profile with a receding chin and lower lip. Class II problems can be due to insufficient growth of the lower jaw, an over growth of the upper jaw or a combination of the two. In many cases, Class II problems are genetically inherited and can be aggravated by environmental factors such as finger sucking. Class II problems are treated via growth redirection to bring the upper teeth, lower teeth and jaws into harmony.
 
Class II division 1


 

 
Class II division 2


 

Class III
Class III is where the lower first molar is anterior (or more towards the front of the mouth) than the upper first molar. In this abnormal relationship, the lower teeth and jaw project further forward than the upper teeth and jaws. There is a concave appearance in profile with a prominent chin. Class III problems are usually due to an overgrowth in the lower jaw, undergrowth of the upper jaw or a combination of the two. Like Class II problems, they can be genetically inherited. Class III problems are usually treated via surgical correction of one or both jaws.
 
Class III functional or dental


 

 
Class III skeletal


 

Orthodontic Problems
 
Overjet
Upper front teeth protrude



 

 
Deep bite
Upper front teeth cover lower front teeth too much


 

 
Underbite
Lower front teeth protrude



 

 
Open bite
Back teeth are together with space between the front teeth



 


Crowding
Upper and/or lower teeth are crowded



 


Excess Spacing
There is excess space between teeth



 


Mid-Line Misalignment
Mid-lines of upper and lower arches do not line up


 


Crossbite
Upper back teeth fit inside lower teeth



Phases of Treatment
Phase I: Treatment usually takes 12 to 18 months and is done between the ages of 7-9. A variety of appliances may be used to correct specific problems.

Maintenance / Recall Phase: During the time between the first and second phase the patient will be seen every few months per year. This is to monitor the eruption of the permanent teeth and exfoliation of primary teeth.

Phase II (if required): During the first phase of treatment Dr. Bock has no control over 16 unerupted permanent teeth. If they grow in and problems still exist, further treatment, known as Phase II, will be required. A separate fee will be quoted at that time. Treatment usually takes 12-24 months.

Full Treatment: If you decide to wait, treatment will be started when all permanent teeth have erupted. Full treatment usually takes 18-30 months. The length of treatment depends on the severity of malocclusion and orthodontic problems.

Proper Braces Care and Brushing Techniques
Brushing and flossing your teeth can be challenging when wearing braces but it is extremely important that you do both consistently and thoroughly.

Foods to Avoid During Treatment: Eating proper foods and minimizing sugar intake are essential during orthodontic treatment. Your braces can be damaged by eating hard, sticky, and chewy foods.
Hard foods : Nuts, Candy, Hard Pretzels
Crunchy foods : Popcorn, Ice, Chips, etc.
Sticky foods : Gum, Chewy Candy (Skittles, Taffy, Gummy Bears, Caramel, etc.)
Chewy foods : Bagels, Hard Rolls, etc.
Foods you have to bite into : Corn on the Cob, Apples, Carrots (cut these foods up into smaller pieces and chew on back teeth)
Chewing on Hard Objects (for example, pens, pencils or fingernails) can damage the braces. Damaged braces will cause treatment to take longer.
Hard Foods

Soft Foods

If you want to replace a missing or failing tooth with a state-of-the-art dental implant (watch dental implant video), your dentist will first need to make sure that you have sufficient bone in your jaw to anchor the implant. This is true no matter what type of tooth is being replaced. However, if it is an upper back tooth and there is not enough bone under the gum where the implant needs to go, the base of the implant could end up poking through an air space (located to the side of the nose) called a sinus cavity. Since you can't anchor a dental implant to air, this presents a problem — but it is one that can often be solved with a minor in-office surgical procedure called a "sinus membrane lift."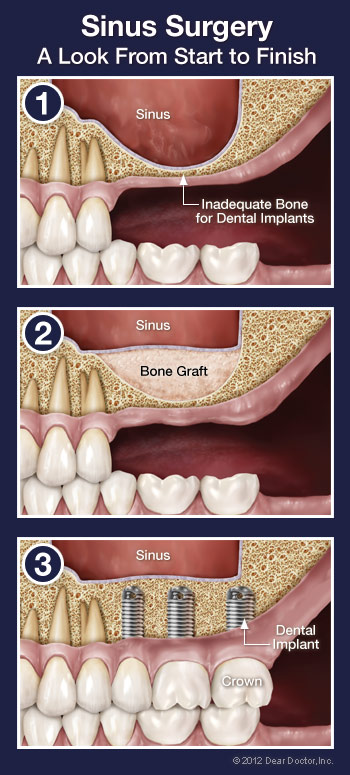 A sinus membrane lift, or sinus augmentation, involves adding bone to fill in the bottom of that air space, essentially raising the floor of the sinus cavity. Why wouldn't there be enough bone there already? For some people, it's simply a matter of how large their sinus cavities are, and their shape. In other cases, bone has actually been lost from the area. For example, if your tooth has been missing a long time, the bone that used to surround it may have begun to deteriorate. Bone in general needs stimulation to stay strong; in the case of the jawbone, that stimulation comes from the teeth. When teeth are lost, the bone loses stimulation and the body ceases to make new bone cells in that area. This leads to a reduction in bone volume and density. Also, if your tooth loss was due to periodontal (gum) disease, your tooth-supporting bone may have been reduced as a result of the disease. No matter what the reason is for insufficient bone, a sinus membrane lift can create more bone where it is needed.
Where does this additional bone come from? It can be bone from elsewhere in your body, such as another part of your jaw or your hip. But most often, it will be bone-grafting materials that are processed in a laboratory for these kinds of purposes. The original source may have been a human or animal donor (usually a cow). Synthetic products can also be used. All grafting materials must be approved by the Food and Drug Administration (FDA) and prepared according to their guidelines. The materials are specially treated to render them completely sterile, non-contagious, and free of rejection factors. For the most part, bone grafts act as scaffolds that the body will eventually replace with its own bone.
The Procedure
Prior to scheduling surgery, your dentist will assess the shape, location, and health of the sinus using x-ray imaging. Your options for anesthesia will also be discussed. The surgery itself is usually carried out under local anesthesia by numbing the area, just as is done for a routine filling. Some people require additional sedation or anti-anxiety medication, which can either be administered orally (by mouth) or by intravenously (through a vein) via injection.
When the area has been completely numbed, an incision will be made in your gum to expose the bone that used to contain your missing tooth or teeth. A small opening will be made in the bone to reveal the membrane that lines the sinus. This membrane will be raised and the space beneath it will be filled with bone grafting material. The gum is then stitched back up. In some cases, the implant(s) can be placed directly into the grafting material before the gum is closed, eliminating the need for a second surgical procedure later on to place the implant. Often, however, the surgical site is allowed to heal for approximately 6-7 months before an implant is placed.
What to Expect After Sinus Surgery
You may experience moderate swelling and some minor discomfort that generally lasts a few days — about the same as having an upper impacted wisdom tooth removed. Sometimes a non-steroidal anti-inflammatory medication (prescription or over-the-counter) is recommended to help minimize this. A course of antibiotics may be prescribed to prevent infection. If the sinus membrane becomes a bit inflamed, leading to a feeling of minor congestion, a decongestant can be helpful. If you suffer from seasonal allergies, make sure to schedule your surgery for a time when this will not be an issue.
Related Articles