The American Association of Orthodontists recommends that all children see an orthodontist by at least age seven and sooner if something is obviously wrong before age seven. Fortunately, most young patients don't need anything more than observation while the permanent teeth are growing into place.
Many young patients have problems, which will not, or should not wait. Most orthodontic problems are inherited and cannot be totally prevented; however something can usually be done before these problems become more difficult and more expensive to manage.
It is advisable to consult with an orthodontist prior to having your dentist remove any baby teeth or permanent teeth. To ensure the best overall dental and facial development, all patients should have an orthodontic consultation sometime between the ages of four and seven.
Dr. Bock offers early examinations and observation consultations. Contact us to schedule a complimentary consultation.

Classifications of Teeth
The classification of bites is divided into three main categories: Class I, II, and III. This classification refers to the position of the first molars, and how they fit together.
Class I
Class I is a normal relationship between the upper teeth, lower teeth and jaws or balanced bite.



Class I normal





Class I crowding


 


Class I spacing

 

Class II

Class II is where the lower first molar is posterior (or more towards the back of the mouth) than the upper first molar. In this abnormal relationship, the upper front teeth and jaw project further forward than the lower teeth and jaw. There is a convex appearance in profile with a receding chin and lower lip. Class II problems can be due to insufficient growth of the lower jaw, an over growth of the upper jaw or a combination of the two. In many cases, Class II problems are genetically inherited and can be aggravated by environmental factors such as finger sucking. Class II problems are treated via growth redirection to bring the upper teeth, lower teeth and jaws into harmony.
 
Class II division 1


 

 
Class II division 2


 

Class III
Class III is where the lower first molar is anterior (or more towards the front of the mouth) than the upper first molar. In this abnormal relationship, the lower teeth and jaw project further forward than the upper teeth and jaws. There is a concave appearance in profile with a prominent chin. Class III problems are usually due to an overgrowth in the lower jaw, undergrowth of the upper jaw or a combination of the two. Like Class II problems, they can be genetically inherited. Class III problems are usually treated via surgical correction of one or both jaws.
 
Class III functional or dental


 

 
Class III skeletal


 

Orthodontic Problems
 
Overjet
Upper front teeth protrude



 

 
Deep bite
Upper front teeth cover lower front teeth too much


 

 
Underbite
Lower front teeth protrude



 

 
Open bite
Back teeth are together with space between the front teeth



 


Crowding
Upper and/or lower teeth are crowded



 


Excess Spacing
There is excess space between teeth



 


Mid-Line Misalignment
Mid-lines of upper and lower arches do not line up


 


Crossbite
Upper back teeth fit inside lower teeth



Phases of Treatment
Phase I: Treatment usually takes 12 to 18 months and is done between the ages of 7-9. A variety of appliances may be used to correct specific problems.

Maintenance / Recall Phase: During the time between the first and second phase the patient will be seen every few months per year. This is to monitor the eruption of the permanent teeth and exfoliation of primary teeth.

Phase II (if required): During the first phase of treatment Dr. Bock has no control over 16 unerupted permanent teeth. If they grow in and problems still exist, further treatment, known as Phase II, will be required. A separate fee will be quoted at that time. Treatment usually takes 12-24 months.

Full Treatment: If you decide to wait, treatment will be started when all permanent teeth have erupted. Full treatment usually takes 18-30 months. The length of treatment depends on the severity of malocclusion and orthodontic problems.

Proper Braces Care and Brushing Techniques
Brushing and flossing your teeth can be challenging when wearing braces but it is extremely important that you do both consistently and thoroughly.

Foods to Avoid During Treatment: Eating proper foods and minimizing sugar intake are essential during orthodontic treatment. Your braces can be damaged by eating hard, sticky, and chewy foods.
Hard foods : Nuts, Candy, Hard Pretzels
Crunchy foods : Popcorn, Ice, Chips, etc.
Sticky foods : Gum, Chewy Candy (Skittles, Taffy, Gummy Bears, Caramel, etc.)
Chewy foods : Bagels, Hard Rolls, etc.
Foods you have to bite into : Corn on the Cob, Apples, Carrots (cut these foods up into smaller pieces and chew on back teeth)
Chewing on Hard Objects (for example, pens, pencils or fingernails) can damage the braces. Damaged braces will cause treatment to take longer.
Hard Foods

Soft Foods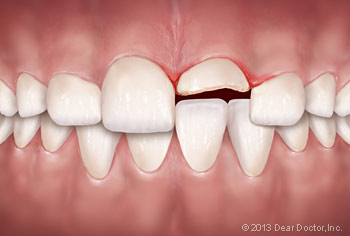 When you were a youngster, did you ever get a black eye, chip a tooth or bruise your cheek? If so, you may have experienced a case (let's hope, a mild one!) of facial trauma. In many situations, however, facial trauma can be severe. Among its major causes are auto accidents, sports injuries, work-related mishaps, falls, and acts of violence. When serious facial injury occurs, it's important that you receive immediate and comprehensive care. That's why oral and maxillofacial surgeons are on call at most emergency and trauma centers.
Facial trauma in general involves injuries to the soft- or hard-tissue structures of the face, mouth or jaws — including the teeth, the bones of the jaws and face, and the tissue of the skin and gums. It can also involve treatment of particular specialized regions, such as the area around the eyes, the salivary glands or facial nerves. Because facial injuries can affect not only a person's ability to carry on basic life functions (eating, vision, etc) but also his or her appearance, there is often a strong emotional component to treatment as well as a physical one. But after completing an extensive training program, oral and maxillofacial surgeons are capable of handling the full scope of facial injuries.
Treatments for Facial Injury
Some facial traumas are relatively minor. A common one occurs when a tooth is loosened or knocked out (avulsed). Many times, if treated immediately, the tooth can be successfully re-implanted in the jaw. If that isn't possible, placing a dental implant is often the most effective way to replace a missing tooth.
Another type of relatively common but more serious injury may involve a fracture of the facial bones, including the cheekbones, upper or lower jawbones, or the eye sockets. In principle, its treatment is essentially the same as that used for a broken arm: place the bones back in their proper position, and immobilize them. But since it isn't possible to put a cast on the face, different immobilization techniques are used. One method involves wiring the upper and lower jaws together to let them heal in the correct alignment; alternatively, plates and screws may be used to permanently reattach the bones.
Severe facial trauma is often a critical condition, since over 60% of these patients also have serious injuries in other parts of the body. In fact, many of the standard techniques used in trauma centers were developed by oral and maxillofacial surgeons during the wars in Korea, Vietnam, and the Middle East. Restoring breathing, controlling bleeding and checking for neurological damage are top priorities. After that, as much of the reconstructive surgery as possible is accomplished in one operation.
Preventing Facial Trauma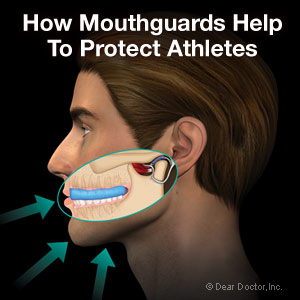 What's the best treatment for facial trauma? Prevention. Always wearing seat belts, using proper helmets and protective gear when playing sports, and staying out of dangerous situations (like driving while impaired, tired or distracted) can go a long way toward keeping you safe. If you're engaging in athletic activities that carry any risk of facial injury, wear a properly fitted mouthguard — this small piece of protective equipment can save you a lot of potential harm.
But if you (or someone you care for) require a trip to the emergency room for a facial injury, be sure to ask for a consultation with an oral and maxillofacial surgeon, so that you get the best care and the most favorable outcome.
Related Articles