The American Association of Orthodontists recommends that all children see an orthodontist by at least age seven and sooner if something is obviously wrong before age seven. Fortunately, most young patients don't need anything more than observation while the permanent teeth are growing into place.
Many young patients have problems, which will not, or should not wait. Most orthodontic problems are inherited and cannot be totally prevented; however something can usually be done before these problems become more difficult and more expensive to manage.
It is advisable to consult with an orthodontist prior to having your dentist remove any baby teeth or permanent teeth. To ensure the best overall dental and facial development, all patients should have an orthodontic consultation sometime between the ages of four and seven.
Dr. Bock offers early examinations and observation consultations. Contact us to schedule a complimentary consultation.

Classifications of Teeth
The classification of bites is divided into three main categories: Class I, II, and III. This classification refers to the position of the first molars, and how they fit together.
Class I
Class I is a normal relationship between the upper teeth, lower teeth and jaws or balanced bite.



Class I normal





Class I crowding


 


Class I spacing

 

Class II

Class II is where the lower first molar is posterior (or more towards the back of the mouth) than the upper first molar. In this abnormal relationship, the upper front teeth and jaw project further forward than the lower teeth and jaw. There is a convex appearance in profile with a receding chin and lower lip. Class II problems can be due to insufficient growth of the lower jaw, an over growth of the upper jaw or a combination of the two. In many cases, Class II problems are genetically inherited and can be aggravated by environmental factors such as finger sucking. Class II problems are treated via growth redirection to bring the upper teeth, lower teeth and jaws into harmony.
 
Class II division 1


 

 
Class II division 2


 

Class III
Class III is where the lower first molar is anterior (or more towards the front of the mouth) than the upper first molar. In this abnormal relationship, the lower teeth and jaw project further forward than the upper teeth and jaws. There is a concave appearance in profile with a prominent chin. Class III problems are usually due to an overgrowth in the lower jaw, undergrowth of the upper jaw or a combination of the two. Like Class II problems, they can be genetically inherited. Class III problems are usually treated via surgical correction of one or both jaws.
 
Class III functional or dental


 

 
Class III skeletal


 

Orthodontic Problems
 
Overjet
Upper front teeth protrude



 

 
Deep bite
Upper front teeth cover lower front teeth too much


 

 
Underbite
Lower front teeth protrude



 

 
Open bite
Back teeth are together with space between the front teeth



 


Crowding
Upper and/or lower teeth are crowded



 


Excess Spacing
There is excess space between teeth



 


Mid-Line Misalignment
Mid-lines of upper and lower arches do not line up


 


Crossbite
Upper back teeth fit inside lower teeth



Phases of Treatment
Phase I: Treatment usually takes 12 to 18 months and is done between the ages of 7-9. A variety of appliances may be used to correct specific problems.

Maintenance / Recall Phase: During the time between the first and second phase the patient will be seen every few months per year. This is to monitor the eruption of the permanent teeth and exfoliation of primary teeth.

Phase II (if required): During the first phase of treatment Dr. Bock has no control over 16 unerupted permanent teeth. If they grow in and problems still exist, further treatment, known as Phase II, will be required. A separate fee will be quoted at that time. Treatment usually takes 12-24 months.

Full Treatment: If you decide to wait, treatment will be started when all permanent teeth have erupted. Full treatment usually takes 18-30 months. The length of treatment depends on the severity of malocclusion and orthodontic problems.

Proper Braces Care and Brushing Techniques
Brushing and flossing your teeth can be challenging when wearing braces but it is extremely important that you do both consistently and thoroughly.

Foods to Avoid During Treatment: Eating proper foods and minimizing sugar intake are essential during orthodontic treatment. Your braces can be damaged by eating hard, sticky, and chewy foods.
Hard foods : Nuts, Candy, Hard Pretzels
Crunchy foods : Popcorn, Ice, Chips, etc.
Sticky foods : Gum, Chewy Candy (Skittles, Taffy, Gummy Bears, Caramel, etc.)
Chewy foods : Bagels, Hard Rolls, etc.
Foods you have to bite into : Corn on the Cob, Apples, Carrots (cut these foods up into smaller pieces and chew on back teeth)
Chewing on Hard Objects (for example, pens, pencils or fingernails) can damage the braces. Damaged braces will cause treatment to take longer.
Hard Foods

Soft Foods

In many cases, problems with the bite or the alignment of the teeth can be corrected using today's advanced methods of dental and orthodontic treatment. Sometimes, however, skeletal and dental irregularities aren't so easy to remedy, even with the most up-to-date non-surgical techniques. That's when corrective jaw surgery (also called orthognathic surgery) may be recommended.
While it may sound like a complex and demanding treatment, jaw surgery isn't always so serious. It's often performed as a routine in-office procedure — for example, to extract impacted wisdom teeth (molars that don't fully protrude through the gums), or to place dental implants in the jaw. However, it can also be used to remedy severe orthodontic problems involving the relationship between the teeth and jaws, including the correction of underbites (the most frequent surgical correction) and congenital abnormalities (birth defects) related to jaw development. It can even help alleviate sleep apnea, a potentially life-threatening condition.
Who Can Benefit From Jaw (Orthognathic) Surgery
People who have problems related to the jaws, tooth alignment and facial asymmetries, which create difficulties chewing, talking, sleeping, or carrying on routine activities, may benefit from having orthognathic (jaw) surgery. These procedures can also be used to correct aesthetic issues, such as a protruding jaw, a congenital defect, or an unbalanced facial appearance.
After a thorough examination, it can be determined if you're a candidate for orthognathic surgery. In general, if orthodontic treatment can solve the problem, that's where you will start. Yet, while orthodontics can successfully align the teeth, it's sometimes the jaws themselves that need to be brought into line. In most cases, orthodontic appliances, such as braces and retainers, will be used before and after the surgical phase of treatment, to ensure that you end up with an effective — and aesthetically pleasing — result.
Conditions that can be successfully treated with corrective orthognathic surgery include the following:
Open bite, protruding jaw or receding chin
Congenital defects such as a cleft palate
Malocclusions (bite problems) resulting from underbites or severe overbites
Obstructive Sleep Apnea, when more conservative methods fail
Difficulty swallowing, chewing, or biting food
Chronic jaw or jaw joint (TMJ) pain and headache
Unbalanced facial appearance from the front or side
Inability to make the lips meet without straining
Chronic mouth breathing and dry mouth
Facial trauma
The Surgical Procedure
While every patient's needs are different, it's possible to outline some typical steps in the process. The first (and perhaps most important) component is consultation and planning among members of the dental team, including the restorative or general dentist, the orthodontist, and the oral surgeon. Your overall plan may involve orthodontic treatments along with surgical procedures. Using diagnostic images, 3-D models and advanced software, a step-by-step plan will be developed for the entire process. It's even possible in many cases to show you a picture of what you'll look like when your treatment is finished.
The surgery itself may occur in a hospital or an office setting, with the type of anesthesia that's most appropriate for the procedure, and for your comfort. Because the actual surgery is generally performed inside the mouth, it often leaves no visible traces. After the procedure, minor pain and swelling can be controlled by over-the-counter or prescription pain medication. A soft or liquid diet may be recommended for a period of time following the procedure.
Following surgery, your condition will be closely monitored — as will your progress through each phase of the treatment plan. When it's complete, you can enjoy the benefits of improved functionality and an enhanced appearance.
Related Articles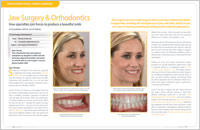 Jaw Surgery & Orthodontics When a person's upper and lower jaw don't meet correctly, braces alone are not going to be enough to align the smile in an aesthetically pleasing way. Jaw surgery combined with orthodontics, however, can produce amazing results... Read Article
Understanding Aging Makes Beauty Timeless For years, researchers have been cataloguing the inevitable facial changes that occur over time. Understanding how the face and the underlying skeleton change — through adolescence into adulthood — has an enormous impact on how dentistry can create positive change. Discover how dentists use their knowledge of the aging process to make treatment decisions and the profound effect this can have on facial beauty during a lifetime... Read Article