The American Association of Orthodontists recommends that all children see an orthodontist by at least age seven and sooner if something is obviously wrong before age seven. Fortunately, most young patients don't need anything more than observation while the permanent teeth are growing into place.
Many young patients have problems, which will not, or should not wait. Most orthodontic problems are inherited and cannot be totally prevented; however something can usually be done before these problems become more difficult and more expensive to manage.
It is advisable to consult with an orthodontist prior to having your dentist remove any baby teeth or permanent teeth. To ensure the best overall dental and facial development, all patients should have an orthodontic consultation sometime between the ages of four and seven.
Dr. Bock offers early examinations and observation consultations. Contact us to schedule a complimentary consultation.

Classifications of Teeth
The classification of bites is divided into three main categories: Class I, II, and III. This classification refers to the position of the first molars, and how they fit together.
Class I
Class I is a normal relationship between the upper teeth, lower teeth and jaws or balanced bite.



Class I normal





Class I crowding


 


Class I spacing

 

Class II

Class II is where the lower first molar is posterior (or more towards the back of the mouth) than the upper first molar. In this abnormal relationship, the upper front teeth and jaw project further forward than the lower teeth and jaw. There is a convex appearance in profile with a receding chin and lower lip. Class II problems can be due to insufficient growth of the lower jaw, an over growth of the upper jaw or a combination of the two. In many cases, Class II problems are genetically inherited and can be aggravated by environmental factors such as finger sucking. Class II problems are treated via growth redirection to bring the upper teeth, lower teeth and jaws into harmony.
 
Class II division 1


 

 
Class II division 2


 

Class III
Class III is where the lower first molar is anterior (or more towards the front of the mouth) than the upper first molar. In this abnormal relationship, the lower teeth and jaw project further forward than the upper teeth and jaws. There is a concave appearance in profile with a prominent chin. Class III problems are usually due to an overgrowth in the lower jaw, undergrowth of the upper jaw or a combination of the two. Like Class II problems, they can be genetically inherited. Class III problems are usually treated via surgical correction of one or both jaws.
 
Class III functional or dental


 

 
Class III skeletal


 

Orthodontic Problems
 
Overjet
Upper front teeth protrude



 

 
Deep bite
Upper front teeth cover lower front teeth too much


 

 
Underbite
Lower front teeth protrude



 

 
Open bite
Back teeth are together with space between the front teeth



 


Crowding
Upper and/or lower teeth are crowded



 


Excess Spacing
There is excess space between teeth



 


Mid-Line Misalignment
Mid-lines of upper and lower arches do not line up


 


Crossbite
Upper back teeth fit inside lower teeth



Phases of Treatment
Phase I: Treatment usually takes 12 to 18 months and is done between the ages of 7-9. A variety of appliances may be used to correct specific problems.

Maintenance / Recall Phase: During the time between the first and second phase the patient will be seen every few months per year. This is to monitor the eruption of the permanent teeth and exfoliation of primary teeth.

Phase II (if required): During the first phase of treatment Dr. Bock has no control over 16 unerupted permanent teeth. If they grow in and problems still exist, further treatment, known as Phase II, will be required. A separate fee will be quoted at that time. Treatment usually takes 12-24 months.

Full Treatment: If you decide to wait, treatment will be started when all permanent teeth have erupted. Full treatment usually takes 18-30 months. The length of treatment depends on the severity of malocclusion and orthodontic problems.

Proper Braces Care and Brushing Techniques
Brushing and flossing your teeth can be challenging when wearing braces but it is extremely important that you do both consistently and thoroughly.

Foods to Avoid During Treatment: Eating proper foods and minimizing sugar intake are essential during orthodontic treatment. Your braces can be damaged by eating hard, sticky, and chewy foods.
Hard foods : Nuts, Candy, Hard Pretzels
Crunchy foods : Popcorn, Ice, Chips, etc.
Sticky foods : Gum, Chewy Candy (Skittles, Taffy, Gummy Bears, Caramel, etc.)
Chewy foods : Bagels, Hard Rolls, etc.
Foods you have to bite into : Corn on the Cob, Apples, Carrots (cut these foods up into smaller pieces and chew on back teeth)
Chewing on Hard Objects (for example, pens, pencils or fingernails) can damage the braces. Damaged braces will cause treatment to take longer.
Hard Foods

Soft Foods

If you are missing one or more of your adult teeth, you're not alone — an estimated 178 million Americans have the same condition. Many try to get along without all of their teeth, and suffer from some of the familiar problems that go with the territory: smiles that don't look as appealing as they once did, problems eating certain foods, and awkwardness or embarrassment in social situations.
Yet there are other problems associated with tooth loss that are less obvious, but could have more of an impact on your health. These include nutritional difficulties, oral health issues, and bone loss.
Nutritional Difficulties
It is well established that eating plenty of fruits and vegetables and avoiding highly processed foods are essential parts of good nutrition. But many foods become difficult to chew if you have missing teeth — and those "challenging" foods are often the same ones that offer the greatest nutritional value. Softer foods are easier to eat, but they are often highly processed, and offer little nutritional value. Along with the possibility of malnourishment, a poor diet can lead to a compromised immune system and a decline in overall health.
Oral Health Issues
If you have only one or two missing teeth, you may not feel an urgent need to replace them now. Yet the problems that stem from missing teeth don't get better — and in time, they can get much worse. Teeth aren't fixed solidly in the jaw; instead, when even one tooth is missing, the remaining teeth tend to "drift" into new positions. This can cause a cascade of oral health problems, including unstable tooth positions, excessive tooth wear, bite problems, a greater chance of developing tooth decay and periodontal disease — and the loss of even more teeth.
Bone Loss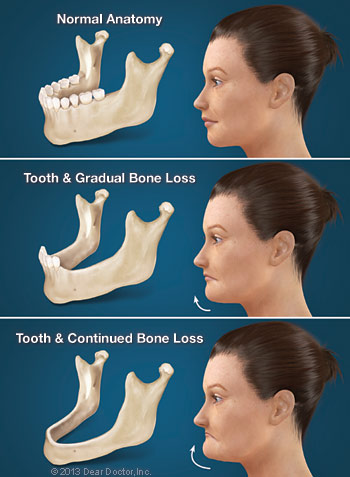 You can't see the bone inside your jaw — but the consequences of bone loss are very real. Bone tissue needs stimulation to maintain its volume and density. When teeth are lost, the jaw bone that once supported them loses stimulation and begins to deteriorate. It can lose one-quarter of its width in just one year, and even more as time passes. As the jaw becomes smaller, facial height (the distance from nose to chin) decreases, and facial features lose support. The chin rotates forward, the corners of the mouth turn downward (as if frowning), and the cheeks can appear hollow. Loss of bone in the jaw can give you the appearance of being many years older than you actually are.
The consequences of tooth loss are very real, even if they are less visible than a gap in your smile. That's why it is so important not to put off the replacement of missing teeth.
Related Articles
The Hidden Consequences of Losing Teeth For those missing even one tooth, an unsightly gap is actually the least significant problem. What's of far greater concern is the bone loss that inevitably follows tooth loss. Dental implants can preserve bone, improve function and enhance psychological well-being. Learn how implants serve both as anchors to support replacement teeth and preserve bone... Read Article
Dental Implants – Your Best Option For Replacing Teeth Dental implants have many advantages over older methods of tooth replacement like bridges and dentures — from the way they function and feel to the way they look and last. Vigorous research has documented and confirmed that in the right situations, dental implant success rates are over 95%. It is no exaggeration to say that they have revolutionized dentistry. They may even change your life... Read Article