The American Association of Orthodontists recommends that all children see an orthodontist by at least age seven and sooner if something is obviously wrong before age seven. Fortunately, most young patients don't need anything more than observation while the permanent teeth are growing into place.
Many young patients have problems, which will not, or should not wait. Most orthodontic problems are inherited and cannot be totally prevented; however something can usually be done before these problems become more difficult and more expensive to manage.
It is advisable to consult with an orthodontist prior to having your dentist remove any baby teeth or permanent teeth. To ensure the best overall dental and facial development, all patients should have an orthodontic consultation sometime between the ages of four and seven.
Dr. Bock offers early examinations and observation consultations. Contact us to schedule a complimentary consultation.

Classifications of Teeth
The classification of bites is divided into three main categories: Class I, II, and III. This classification refers to the position of the first molars, and how they fit together.
Class I
Class I is a normal relationship between the upper teeth, lower teeth and jaws or balanced bite.



Class I normal





Class I crowding


 


Class I spacing

 

Class II

Class II is where the lower first molar is posterior (or more towards the back of the mouth) than the upper first molar. In this abnormal relationship, the upper front teeth and jaw project further forward than the lower teeth and jaw. There is a convex appearance in profile with a receding chin and lower lip. Class II problems can be due to insufficient growth of the lower jaw, an over growth of the upper jaw or a combination of the two. In many cases, Class II problems are genetically inherited and can be aggravated by environmental factors such as finger sucking. Class II problems are treated via growth redirection to bring the upper teeth, lower teeth and jaws into harmony.
 
Class II division 1


 

 
Class II division 2


 

Class III
Class III is where the lower first molar is anterior (or more towards the front of the mouth) than the upper first molar. In this abnormal relationship, the lower teeth and jaw project further forward than the upper teeth and jaws. There is a concave appearance in profile with a prominent chin. Class III problems are usually due to an overgrowth in the lower jaw, undergrowth of the upper jaw or a combination of the two. Like Class II problems, they can be genetically inherited. Class III problems are usually treated via surgical correction of one or both jaws.
 
Class III functional or dental


 

 
Class III skeletal


 

Orthodontic Problems
 
Overjet
Upper front teeth protrude



 

 
Deep bite
Upper front teeth cover lower front teeth too much


 

 
Underbite
Lower front teeth protrude



 

 
Open bite
Back teeth are together with space between the front teeth



 


Crowding
Upper and/or lower teeth are crowded



 


Excess Spacing
There is excess space between teeth



 


Mid-Line Misalignment
Mid-lines of upper and lower arches do not line up


 


Crossbite
Upper back teeth fit inside lower teeth



Phases of Treatment
Phase I: Treatment usually takes 12 to 18 months and is done between the ages of 7-9. A variety of appliances may be used to correct specific problems.

Maintenance / Recall Phase: During the time between the first and second phase the patient will be seen every few months per year. This is to monitor the eruption of the permanent teeth and exfoliation of primary teeth.

Phase II (if required): During the first phase of treatment Dr. Bock has no control over 16 unerupted permanent teeth. If they grow in and problems still exist, further treatment, known as Phase II, will be required. A separate fee will be quoted at that time. Treatment usually takes 12-24 months.

Full Treatment: If you decide to wait, treatment will be started when all permanent teeth have erupted. Full treatment usually takes 18-30 months. The length of treatment depends on the severity of malocclusion and orthodontic problems.

Proper Braces Care and Brushing Techniques
Brushing and flossing your teeth can be challenging when wearing braces but it is extremely important that you do both consistently and thoroughly.

Foods to Avoid During Treatment: Eating proper foods and minimizing sugar intake are essential during orthodontic treatment. Your braces can be damaged by eating hard, sticky, and chewy foods.
Hard foods : Nuts, Candy, Hard Pretzels
Crunchy foods : Popcorn, Ice, Chips, etc.
Sticky foods : Gum, Chewy Candy (Skittles, Taffy, Gummy Bears, Caramel, etc.)
Chewy foods : Bagels, Hard Rolls, etc.
Foods you have to bite into : Corn on the Cob, Apples, Carrots (cut these foods up into smaller pieces and chew on back teeth)
Chewing on Hard Objects (for example, pens, pencils or fingernails) can damage the braces. Damaged braces will cause treatment to take longer.
Hard Foods

Soft Foods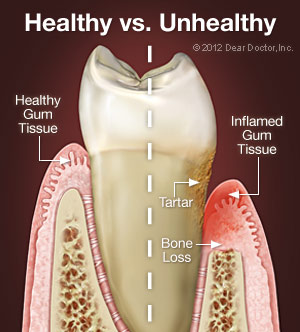 While you may think that some loss of teeth is inevitable with aging, it is actually possible for all of your teeth to last a lifetime. One of the ways you can achieve this goal is to avoid periodontal disease ("peri" – around; "odont" – tooth), which is caused by bacteria that attack the tissues around the teeth. Unfortunately, you may not even realize you have gum disease as the signs and symptoms are not always as apparent to you as they are to a dental professional.
Nearly all people who do not maintain good daily oral hygiene will develop gingivitis. If left untreated, this bacterial gum infection can progress from gingivitis ("gingival" – gum; "itis" – inflammation) to periodontitis, which results in bone loss around your teeth. As the bone tissue is lost, the gum tissues detach from the teeth and form little pockets that provide an even better place for bacteria to live — where your brush and floss can't reach. As periodontal disease advances leading to more bone loss, tooth loss can result. Part of this has to do with genetics, as periodontal disease tends to run in families. The good news is that periodontal disease can be controlled, even at more advanced stages.
Signs and Symptoms of Periodontal Disease
It's important to understand that you can have periodontal disease with no obvious symptoms, especially if you are a smoker (nicotine reduces blood supply preventing bleeding and swelling of the gum tissues). Still, there are some important things to look for:
Bleeding gums — Some people think that when their gums bleed, it simply means they're brushing too hard. While brushing too hard is bad for the gums, it should not cause bleeding. Any bleeding of the gums should be considered a warning sign of gum disease.
Bad breath — It's very easy for plaque to collect in the spaces between the teeth, creating the perfect living conditions for bacteria that produce odorous, sulfur-containing compounds, resulting in bad breath.
Redness or swelling of the gums — Inflammation of the gums is usually the first visible sign of periodontal disease.
Receding gums — If you notice that your teeth look longer than they used to, it may be that your gum tissue has receded (away from the enamel), exposing some of your tooth roots.
Sensitivity — If there is gum recession, the exposed roots may become sensitive to hot or cold.
Periodontal abscess — Bacteria can become enclosed in a periodontal pocket and the area will fill with pus, becoming swollen and painful.
Loose teeth — When periodontal disease results in bone loss, teeth can become loose or migrate. Tooth loss can result and may be accelerated if you are applying excessive biting forces from clenching or grinding your teeth.
Treatment Options
All periodontal therapy starts with the evaluation of your oral hygiene techniques and instruction for improving them, followed by the mechanical removal of plaque and any calcified deposits (tartar or calculus) that are present on the root surfaces. This is accomplished with a cleaning technique known as scaling, root planing or debridement using hand instruments and/or ultrasonic (high frequency vibrational) instruments. Locally applied antimicrobial products or antibiotics might also be recommended during various parts of periodontal treatment to assist in healing and pocket-depth reduction, hopefully eliminating the need for periodontal surgery. Sometimes surgical procedures may be necessary to remove the deep pockets that form between inflamed gum tissue and teeth. There are many different types of surgery to handle a variety of problems. And many times, combinations of procedures are used to attempt to reduce the number of surgeries as well as the cost of treatment.
Periodontal Disease & Your Overall Health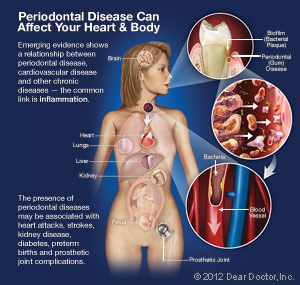 Periodontal disease starts in your mouth but has actually been linked to more serious conditions, such as cardio-vascular disease (CVD), diabetes and preterm births. Research has suggested two plausible mechanisms for how gum disease and these other serious medical concerns could be related: moderate to severe periodontal disease increases the level of systemic (bodily) inflammation — a characteristic of all chronic inflammatory diseases. Also, the same bacterial strains that are commonly found in periodontal pockets surrounding diseased teeth have been found in blood vessel plaques of individuals with CVD. Therefore, it may be helpful to reduce periodontal inflammation to reduce systemic inflammation.
Preventive Strategies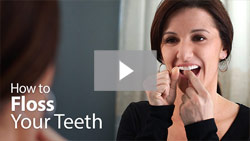 The best way to prevent periodontal disease is to brush and floss your teeth effectively every day. Regular dental checkups and professional cleanings every 3 or 4 or 6 months are also an important part of maintaining periodontal health; the instruments and techniques used in these cleanings can reach into areas that your toothbrush and floss can't.
It is also possible to detect early forms of gum disease by evaluating your gingival (gum) tissues, both visually and by examining their attachment levels to the teeth. And the health of your tooth-supporting bone can be assessed by taking dental radiographs (x-rays pictures).
There are other steps you can take: Eating right, reducing stress in your life, and giving up unhealthy habits like smoking will also help ensure that you keep your teeth for a lifetime.
Related Articles