The American Association of Orthodontists recommends that all children see an orthodontist by at least age seven and sooner if something is obviously wrong before age seven. Fortunately, most young patients don't need anything more than observation while the permanent teeth are growing into place.
Many young patients have problems, which will not, or should not wait. Most orthodontic problems are inherited and cannot be totally prevented; however something can usually be done before these problems become more difficult and more expensive to manage.
It is advisable to consult with an orthodontist prior to having your dentist remove any baby teeth or permanent teeth. To ensure the best overall dental and facial development, all patients should have an orthodontic consultation sometime between the ages of four and seven.
Dr. Bock offers early examinations and observation consultations. Contact us to schedule a complimentary consultation.

Classifications of Teeth
The classification of bites is divided into three main categories: Class I, II, and III. This classification refers to the position of the first molars, and how they fit together.
Class I
Class I is a normal relationship between the upper teeth, lower teeth and jaws or balanced bite.



Class I normal





Class I crowding


 


Class I spacing

 

Class II

Class II is where the lower first molar is posterior (or more towards the back of the mouth) than the upper first molar. In this abnormal relationship, the upper front teeth and jaw project further forward than the lower teeth and jaw. There is a convex appearance in profile with a receding chin and lower lip. Class II problems can be due to insufficient growth of the lower jaw, an over growth of the upper jaw or a combination of the two. In many cases, Class II problems are genetically inherited and can be aggravated by environmental factors such as finger sucking. Class II problems are treated via growth redirection to bring the upper teeth, lower teeth and jaws into harmony.
 
Class II division 1


 

 
Class II division 2


 

Class III
Class III is where the lower first molar is anterior (or more towards the front of the mouth) than the upper first molar. In this abnormal relationship, the lower teeth and jaw project further forward than the upper teeth and jaws. There is a concave appearance in profile with a prominent chin. Class III problems are usually due to an overgrowth in the lower jaw, undergrowth of the upper jaw or a combination of the two. Like Class II problems, they can be genetically inherited. Class III problems are usually treated via surgical correction of one or both jaws.
 
Class III functional or dental


 

 
Class III skeletal


 

Orthodontic Problems
 
Overjet
Upper front teeth protrude



 

 
Deep bite
Upper front teeth cover lower front teeth too much


 

 
Underbite
Lower front teeth protrude



 

 
Open bite
Back teeth are together with space between the front teeth



 


Crowding
Upper and/or lower teeth are crowded



 


Excess Spacing
There is excess space between teeth



 


Mid-Line Misalignment
Mid-lines of upper and lower arches do not line up


 


Crossbite
Upper back teeth fit inside lower teeth



Phases of Treatment
Phase I: Treatment usually takes 12 to 18 months and is done between the ages of 7-9. A variety of appliances may be used to correct specific problems.

Maintenance / Recall Phase: During the time between the first and second phase the patient will be seen every few months per year. This is to monitor the eruption of the permanent teeth and exfoliation of primary teeth.

Phase II (if required): During the first phase of treatment Dr. Bock has no control over 16 unerupted permanent teeth. If they grow in and problems still exist, further treatment, known as Phase II, will be required. A separate fee will be quoted at that time. Treatment usually takes 12-24 months.

Full Treatment: If you decide to wait, treatment will be started when all permanent teeth have erupted. Full treatment usually takes 18-30 months. The length of treatment depends on the severity of malocclusion and orthodontic problems.

Proper Braces Care and Brushing Techniques
Brushing and flossing your teeth can be challenging when wearing braces but it is extremely important that you do both consistently and thoroughly.

Foods to Avoid During Treatment: Eating proper foods and minimizing sugar intake are essential during orthodontic treatment. Your braces can be damaged by eating hard, sticky, and chewy foods.
Hard foods : Nuts, Candy, Hard Pretzels
Crunchy foods : Popcorn, Ice, Chips, etc.
Sticky foods : Gum, Chewy Candy (Skittles, Taffy, Gummy Bears, Caramel, etc.)
Chewy foods : Bagels, Hard Rolls, etc.
Foods you have to bite into : Corn on the Cob, Apples, Carrots (cut these foods up into smaller pieces and chew on back teeth)
Chewing on Hard Objects (for example, pens, pencils or fingernails) can damage the braces. Damaged braces will cause treatment to take longer.
Hard Foods

Soft Foods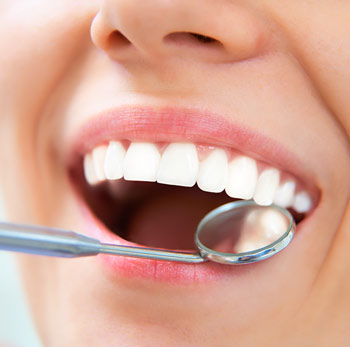 What does good oral hygiene mean to you: Flashing a pearly-white smile? Having fresh smelling breath? Feeling that squeaky-clean sensation all around your teeth and tongue? All of these are important indicators about the state of your oral health — and they're often the first thing people notice when they meet you. But getting your teeth, gums and mouth really clean, and maintaining that healthy state throughout the day (and in the months between professional dental cleanings) can be challenging.
Of course, there's much more to oral hygiene than just a bright smile. Take tooth decay, for example: Despite all our efforts, it's still the single most common chronic disease of childhood, affecting two-thirds of U.S. kids aged 12-19. It is 5 times more common than asthma, 7 times more common than hay fever — and it's almost totally preventable. Several other diseases commonly affect the mouth, including periodontitis (gum disease), which, if left untreated, can lead to tooth loss and possibly systemic (whole-body) inflammation.
In many ways, the health of the mouth mirrors the health of the body. Diseases in other parts of the body often cause symptoms we can observe in the mouth; likewise, oral maladies (like tooth loss) not only reduce an individual's quality of life, but may also lead to problems in other areas. That's another reason why maintaining good oral hygiene is so important.
Keeping Up Your Oral Health
Regular dental visits play a critical role in maintaining your oral health — not only to find and remedy any problems with teeth or gums, but also to assess the general condition of your oral health, point out potential trouble spots, and offer suggestions for preventive care. In between visits, the best way to keep your teeth clean and free of disease, your gums pink and healthy, and your breath fresh, is a program of daily oral hygiene. Your regular routine should include the following:
Brush and Floss. You should brush at least twice a day and floss at least once daily. This will help remove plaque, a bacteria-laden biofilm, from the surfaces of your teeth. The bacteria in plaque can turn sugars from food into acids, which attack the tooth's enamel and cause tooth decay. Some bacteria can also cause gingivitis and other gum diseases.
Make sure you're getting the proper amount of fluoride. Fluoride strengthens tooth enamel — it's essential for children's developing teeth, and helps prevent decay in both kids and adults. Even if your municipal water is fluoridated, you should always use fluoride toothpaste. If more fluoride is needed, it can be applied directly to your teeth at the dental office.
Limit between-meal snacks. Sugary snacks are the perfect fuel for decay-causing bacteria — and when eaten throughout the day, they keep the acid constantly on the attack. So give your mouth a break, and (if you allow them) limit sugary treats to mealtime.
Use an appropriate mouthrinse — especially if you're at increased risk. Therapeutic mouthrinses do more than temporarily mask bad smells or tastes in your mouth — they can improve your overall oral hygiene. While some over-the counter products offer primarily "cosmetic" benefits, therapeutic rinses contain anti-bacterial and anti-cariogenic (cavity-fighting) ingredients. Using a therapeutic mouthrinse has been proven to control plaque bacteria and prevent cavities better than brushing and flossing alone.
Quit tobacco. Whether smoked or smokeless, tobacco use greatly increases your risk of oral cancer, gum disease, and tooth decay (not to mention heart disease and lung cancer… but you already knew that). If you use tobacco, ask us how to quit now.
Examine your mouth regularly. Once you've established a regular routine, you'll quickly recognize any changes in your mouth — like chipped teeth, red or swollen gums, or unusual sores. If you find something of concern, let us know. Early treatment offers the best chance to remedy many problems.
A major goal of modern dentistry is to help you keep your teeth and gums healthy for a lifetime. By following a conscientious program of oral hygiene, you have the best chance at making this goal a reality.
Related Articles