The American Association of Orthodontists recommends that all children see an orthodontist by at least age seven and sooner if something is obviously wrong before age seven. Fortunately, most young patients don't need anything more than observation while the permanent teeth are growing into place.
Many young patients have problems, which will not, or should not wait. Most orthodontic problems are inherited and cannot be totally prevented; however something can usually be done before these problems become more difficult and more expensive to manage.
It is advisable to consult with an orthodontist prior to having your dentist remove any baby teeth or permanent teeth. To ensure the best overall dental and facial development, all patients should have an orthodontic consultation sometime between the ages of four and seven.
Dr. Bock offers early examinations and observation consultations. Contact us to schedule a complimentary consultation.

Classifications of Teeth
The classification of bites is divided into three main categories: Class I, II, and III. This classification refers to the position of the first molars, and how they fit together.
Class I
Class I is a normal relationship between the upper teeth, lower teeth and jaws or balanced bite.



Class I normal





Class I crowding


 


Class I spacing

 

Class II

Class II is where the lower first molar is posterior (or more towards the back of the mouth) than the upper first molar. In this abnormal relationship, the upper front teeth and jaw project further forward than the lower teeth and jaw. There is a convex appearance in profile with a receding chin and lower lip. Class II problems can be due to insufficient growth of the lower jaw, an over growth of the upper jaw or a combination of the two. In many cases, Class II problems are genetically inherited and can be aggravated by environmental factors such as finger sucking. Class II problems are treated via growth redirection to bring the upper teeth, lower teeth and jaws into harmony.
 
Class II division 1


 

 
Class II division 2


 

Class III
Class III is where the lower first molar is anterior (or more towards the front of the mouth) than the upper first molar. In this abnormal relationship, the lower teeth and jaw project further forward than the upper teeth and jaws. There is a concave appearance in profile with a prominent chin. Class III problems are usually due to an overgrowth in the lower jaw, undergrowth of the upper jaw or a combination of the two. Like Class II problems, they can be genetically inherited. Class III problems are usually treated via surgical correction of one or both jaws.
 
Class III functional or dental


 

 
Class III skeletal


 

Orthodontic Problems
 
Overjet
Upper front teeth protrude



 

 
Deep bite
Upper front teeth cover lower front teeth too much


 

 
Underbite
Lower front teeth protrude



 

 
Open bite
Back teeth are together with space between the front teeth



 


Crowding
Upper and/or lower teeth are crowded



 


Excess Spacing
There is excess space between teeth



 


Mid-Line Misalignment
Mid-lines of upper and lower arches do not line up


 


Crossbite
Upper back teeth fit inside lower teeth



Phases of Treatment
Phase I: Treatment usually takes 12 to 18 months and is done between the ages of 7-9. A variety of appliances may be used to correct specific problems.

Maintenance / Recall Phase: During the time between the first and second phase the patient will be seen every few months per year. This is to monitor the eruption of the permanent teeth and exfoliation of primary teeth.

Phase II (if required): During the first phase of treatment Dr. Bock has no control over 16 unerupted permanent teeth. If they grow in and problems still exist, further treatment, known as Phase II, will be required. A separate fee will be quoted at that time. Treatment usually takes 12-24 months.

Full Treatment: If you decide to wait, treatment will be started when all permanent teeth have erupted. Full treatment usually takes 18-30 months. The length of treatment depends on the severity of malocclusion and orthodontic problems.

Proper Braces Care and Brushing Techniques
Brushing and flossing your teeth can be challenging when wearing braces but it is extremely important that you do both consistently and thoroughly.

Foods to Avoid During Treatment: Eating proper foods and minimizing sugar intake are essential during orthodontic treatment. Your braces can be damaged by eating hard, sticky, and chewy foods.
Hard foods : Nuts, Candy, Hard Pretzels
Crunchy foods : Popcorn, Ice, Chips, etc.
Sticky foods : Gum, Chewy Candy (Skittles, Taffy, Gummy Bears, Caramel, etc.)
Chewy foods : Bagels, Hard Rolls, etc.
Foods you have to bite into : Corn on the Cob, Apples, Carrots (cut these foods up into smaller pieces and chew on back teeth)
Chewing on Hard Objects (for example, pens, pencils or fingernails) can damage the braces. Damaged braces will cause treatment to take longer.
Hard Foods

Soft Foods

With proper care, your teeth can last a lifetime. But some amount of wear as we age is normal. By "wear," we mean loss of tooth structure. Wear starts with loss of the hard, translucent enamel that forms the outer covering of teeth, and might, in more serious cases, progress to the softer inner tooth structure known as dentin.
Enamel is actually the human body's hardest substance. It is highly mineralized and non-living, in contrast to bone and dentin which are living tissues. Enamel is highly resistant to wear and chemical attack, as it would have to be given what your teeth do every day: bite, chew, and come in contact with acidic foods and drinks.
Still, it is possible for tooth enamel to wear down for various reasons. Your body has ways of compensating for minor wear. But when tooth wear becomes more significant, intervention may be necessary to keep your bite functioning properly and protect your teeth.
Types of Tooth Wear
Tooth wear can result from one or more of these processes:
Abrasion: This is caused by the interaction of teeth and other materials rubbing or scraping against them. The most common source of abrasion is traumatic toothbrushing, meaning that you are using a toothbrush that's too hard or applying too much force when you brush. This can affect the root surfaces of your teeth just below the gum line or the enamel above the gum line. Other causes of abrasion can include improper use of toothpicks and dental floss. Some dental appliances such as partial dentures or retainers that are frequently taken in and out of the mouth can also abrade teeth. Abrasion can also result from a diet loaded with abrasive foods like sun flower seeds and nuts or habits such as nail-biting and pen-chewing.
Attrition: This is an effect of tooth-to-tooth contact, which happens many times throughout the day as your teeth bite and chew food. Biting and chewing normally generate forces between 13 - 23 pounds. Yet people who have clenching and grinding habits (of which they might not even be aware) can subject their teeth to forces up to 10 times that. This can damage teeth.
Erosion: When your teeth come in contact with acidic substances in your diet, the acid can actually erode (dissolve) the enamel on your teeth. Culprits of this kind of tooth wear often include sodas, sports drinks and so-called energy drinks. Certain fruit juices are also acidic. Confining these drinks to mealtimes and swishing water in your mouth after drinking them can help prevent this erosion.
Abfraction: This refers specifically to the loss of tooth enamel at the necks of the teeth (the thinner part right at the gum line). While this type of wear is not clearly understood and the cause is debated in dentistry, loss of tooth structure at the neck of teeth does happen. It is believed to be caused by tooth flexion from biting forces. Abrasion and erosion can contribute to this problem.
Treating Worn Teeth
In order to treat your worn teeth, the cause of the wear must be determined during a simple oral examination at the dental office. Once the cause has been identified, the stresses on your teeth can be reduced if need be. For example, you may need instruction on gentle, effective tooth brushing techniques; or some changes to your diet. If you have a clenching or grinding habit, a mouthguard can be custom-made for you that will protect your teeth during sleep or periods of high stress.
Lost tooth structure sometimes needs to be replaced so your bite functions properly and your teeth look great once again. Depending on the situation, this can be done with bonding, veneers, or crowns. Fortunately, modern dentistry can restore the normal shape, appearance and function of worn teeth — beautifully and successfully!
Related Articles
How & Why Teeth Wear Are teeth supposed to last for a lifetime? And are humans designed to live for up to a hundred years? Given all the current improvements in the areas of medicine and health, both general and oral, people are not only living longer, but they are also keeping their teeth longer. This article will provide an overview of the "oral system" and one of its more common and important occurrences, tooth wear... Read Article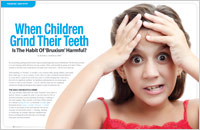 When Children Grind Their Teeth Many children grind their teeth as they sleep, and the grating sounds of this habit can really set a parent's own teeth on edge. But is tooth grinding (also called "bruxism") harmful? And can — or should — anything be done to break the habit? Dear Doctor magazine shines a light on this unsettling nocturnal behavior... Read Article