The American Association of Orthodontists recommends that all children see an orthodontist by at least age seven and sooner if something is obviously wrong before age seven. Fortunately, most young patients don't need anything more than observation while the permanent teeth are growing into place.
Many young patients have problems, which will not, or should not wait. Most orthodontic problems are inherited and cannot be totally prevented; however something can usually be done before these problems become more difficult and more expensive to manage.
It is advisable to consult with an orthodontist prior to having your dentist remove any baby teeth or permanent teeth. To ensure the best overall dental and facial development, all patients should have an orthodontic consultation sometime between the ages of four and seven.
Dr. Bock offers early examinations and observation consultations. Contact us to schedule a complimentary consultation.

Classifications of Teeth
The classification of bites is divided into three main categories: Class I, II, and III. This classification refers to the position of the first molars, and how they fit together.
Class I
Class I is a normal relationship between the upper teeth, lower teeth and jaws or balanced bite.



Class I normal





Class I crowding


 


Class I spacing

 

Class II

Class II is where the lower first molar is posterior (or more towards the back of the mouth) than the upper first molar. In this abnormal relationship, the upper front teeth and jaw project further forward than the lower teeth and jaw. There is a convex appearance in profile with a receding chin and lower lip. Class II problems can be due to insufficient growth of the lower jaw, an over growth of the upper jaw or a combination of the two. In many cases, Class II problems are genetically inherited and can be aggravated by environmental factors such as finger sucking. Class II problems are treated via growth redirection to bring the upper teeth, lower teeth and jaws into harmony.
 
Class II division 1


 

 
Class II division 2


 

Class III
Class III is where the lower first molar is anterior (or more towards the front of the mouth) than the upper first molar. In this abnormal relationship, the lower teeth and jaw project further forward than the upper teeth and jaws. There is a concave appearance in profile with a prominent chin. Class III problems are usually due to an overgrowth in the lower jaw, undergrowth of the upper jaw or a combination of the two. Like Class II problems, they can be genetically inherited. Class III problems are usually treated via surgical correction of one or both jaws.
 
Class III functional or dental


 

 
Class III skeletal


 

Orthodontic Problems
 
Overjet
Upper front teeth protrude



 

 
Deep bite
Upper front teeth cover lower front teeth too much


 

 
Underbite
Lower front teeth protrude



 

 
Open bite
Back teeth are together with space between the front teeth



 


Crowding
Upper and/or lower teeth are crowded



 


Excess Spacing
There is excess space between teeth



 


Mid-Line Misalignment
Mid-lines of upper and lower arches do not line up


 


Crossbite
Upper back teeth fit inside lower teeth



Phases of Treatment
Phase I: Treatment usually takes 12 to 18 months and is done between the ages of 7-9. A variety of appliances may be used to correct specific problems.

Maintenance / Recall Phase: During the time between the first and second phase the patient will be seen every few months per year. This is to monitor the eruption of the permanent teeth and exfoliation of primary teeth.

Phase II (if required): During the first phase of treatment Dr. Bock has no control over 16 unerupted permanent teeth. If they grow in and problems still exist, further treatment, known as Phase II, will be required. A separate fee will be quoted at that time. Treatment usually takes 12-24 months.

Full Treatment: If you decide to wait, treatment will be started when all permanent teeth have erupted. Full treatment usually takes 18-30 months. The length of treatment depends on the severity of malocclusion and orthodontic problems.

Proper Braces Care and Brushing Techniques
Brushing and flossing your teeth can be challenging when wearing braces but it is extremely important that you do both consistently and thoroughly.

Foods to Avoid During Treatment: Eating proper foods and minimizing sugar intake are essential during orthodontic treatment. Your braces can be damaged by eating hard, sticky, and chewy foods.
Hard foods : Nuts, Candy, Hard Pretzels
Crunchy foods : Popcorn, Ice, Chips, etc.
Sticky foods : Gum, Chewy Candy (Skittles, Taffy, Gummy Bears, Caramel, etc.)
Chewy foods : Bagels, Hard Rolls, etc.
Foods you have to bite into : Corn on the Cob, Apples, Carrots (cut these foods up into smaller pieces and chew on back teeth)
Chewing on Hard Objects (for example, pens, pencils or fingernails) can damage the braces. Damaged braces will cause treatment to take longer.
Hard Foods

Soft Foods

You always brush twice a day, avoid sugary snacks between meals, and go to the dentist regularly. Do you still have to floss your teeth?
The short answer: Yes, at least once a day. Flossing is probably your single most important weapon against plaque, the clingy bacterial biofilm that sticks to the surfaces of your teeth. Plaque is the principal cause of tooth decay; but it is also the cause of periodontitis (gum disease), bad breath, and other maladies. Brushing is a good start — but flossing removes plaque in places a brush can't reach, like the small gaps between teeth and under the gums. It also polishes tooth surfaces and decreases the risk of gum disease.
Some people may think they don't have time to floss, but once you get the hang of it, flossing only takes few minutes. If you are going to floss only once a day, it's best to do it at night just before going to sleep. That's because there is less saliva present in your mouth when you are sleeping, so plaque is more concentrated and potentially more harmful. Just in case you never really learned proper flossing techniques, here's a step by step approach including some easy tips for doing a great job.
Proper Flossing Technique
Cut off a piece of floss about 18 inches long. Wind it around the middle finger of both hands leaving a gap of around three or four inches. You will now be able to use different combinations of your thumbs and index fingers to correctly position the floss between your teeth for all areas of your mouth.

TIP: The most common mistake people make while flossing is that they tighten their lips and cheeks making it impossible to get their fingers into the mouth. Relax your lips and cheeks.

Now, guide the floss gently into the space between your teeth.

TIP: Even if the gap is tight, try not to snap the floss into your gums as you're inserting it. A side-to-side sawing motion is good to use here, but only when slipping the floss gently between the teeth.

There are two sides to each space between your teeth and you must floss each side separately so as not to injure the triangle of gum tissue between your teeth. Run the floss up and down the surface of the tooth, making sure you are going down to the gum line and then up to the highest contact point between the teeth. Apply pressure with your fingers away from the gum triangle, letting it curve around the side of the tooth forming the letter "C" with the floss.

TIP: You want your fingers as close to the front and back of the tooth as possible so both fingers move in harmony up and down until you hear a squeaky clean sound. This is easier with unwaxed floss. The smaller the amount of floss between your fingers, the more control you have flossing.

Next, move your fingers to the top contact area between the teeth and slide across to the other side of the space. Apply pressure with your fingers in the opposite direction and repeat.
Slide the floss out from between the teeth. If it's frayed or brownish, that's good: you're removing plaque! Unwind a little new floss from the "dispenser" finger, and take up the used floss on the other finger.
Repeat the process on the next space between teeth. Work all around the mouth — and don't forget back sides of the last molars.
Variations for Comfort
If you're having trouble with the two-finger method, here's another way to try flossing: Just tie the same amount of floss into a big loop, place all your fingers (but not thumbs) inside the loop, and work it around your teeth with index fingers and thumbs. All the other steps remain the same.
Once you've got the basics down, there are a few different types of flosses you can try, including flavored, waxed, and wider width. Some people find waxed floss slides more easily into tighter gaps between teeth or restorations — but it may not make that satisfying "squeak" as it's cleaning. Others prefer wide floss for cleaning around bridgework. But whichever way works best for you, the important thing is to keep it up!
Related Articles
Oral Hygiene Behavior — Dental Health for Life The best tools for maintaining your oral health and minimizing dental problems are a quality toothbrush, toothpaste, a roll of dental floss, approved mouthwash and good diet. This article details a winning game plan for oral health... Read Article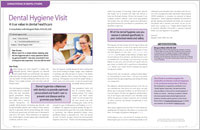 Dental Hygiene Visit There's a lot more going on at your regular dental hygiene visit than a feel-good polishing! Dental hygienists collaborate with dentists to provide optimum personalized oral health care to prevent oral disease and to promote your health... Read Article