The American Association of Orthodontists recommends that all children see an orthodontist by at least age seven and sooner if something is obviously wrong before age seven. Fortunately, most young patients don't need anything more than observation while the permanent teeth are growing into place.
Many young patients have problems, which will not, or should not wait. Most orthodontic problems are inherited and cannot be totally prevented; however something can usually be done before these problems become more difficult and more expensive to manage.
It is advisable to consult with an orthodontist prior to having your dentist remove any baby teeth or permanent teeth. To ensure the best overall dental and facial development, all patients should have an orthodontic consultation sometime between the ages of four and seven.
Dr. Bock offers early examinations and observation consultations. Contact us to schedule a complimentary consultation.

Classifications of Teeth
The classification of bites is divided into three main categories: Class I, II, and III. This classification refers to the position of the first molars, and how they fit together.
Class I
Class I is a normal relationship between the upper teeth, lower teeth and jaws or balanced bite.



Class I normal





Class I crowding


 


Class I spacing

 

Class II

Class II is where the lower first molar is posterior (or more towards the back of the mouth) than the upper first molar. In this abnormal relationship, the upper front teeth and jaw project further forward than the lower teeth and jaw. There is a convex appearance in profile with a receding chin and lower lip. Class II problems can be due to insufficient growth of the lower jaw, an over growth of the upper jaw or a combination of the two. In many cases, Class II problems are genetically inherited and can be aggravated by environmental factors such as finger sucking. Class II problems are treated via growth redirection to bring the upper teeth, lower teeth and jaws into harmony.
 
Class II division 1


 

 
Class II division 2


 

Class III
Class III is where the lower first molar is anterior (or more towards the front of the mouth) than the upper first molar. In this abnormal relationship, the lower teeth and jaw project further forward than the upper teeth and jaws. There is a concave appearance in profile with a prominent chin. Class III problems are usually due to an overgrowth in the lower jaw, undergrowth of the upper jaw or a combination of the two. Like Class II problems, they can be genetically inherited. Class III problems are usually treated via surgical correction of one or both jaws.
 
Class III functional or dental


 

 
Class III skeletal


 

Orthodontic Problems
 
Overjet
Upper front teeth protrude



 

 
Deep bite
Upper front teeth cover lower front teeth too much


 

 
Underbite
Lower front teeth protrude



 

 
Open bite
Back teeth are together with space between the front teeth



 


Crowding
Upper and/or lower teeth are crowded



 


Excess Spacing
There is excess space between teeth



 


Mid-Line Misalignment
Mid-lines of upper and lower arches do not line up


 


Crossbite
Upper back teeth fit inside lower teeth



Phases of Treatment
Phase I: Treatment usually takes 12 to 18 months and is done between the ages of 7-9. A variety of appliances may be used to correct specific problems.

Maintenance / Recall Phase: During the time between the first and second phase the patient will be seen every few months per year. This is to monitor the eruption of the permanent teeth and exfoliation of primary teeth.

Phase II (if required): During the first phase of treatment Dr. Bock has no control over 16 unerupted permanent teeth. If they grow in and problems still exist, further treatment, known as Phase II, will be required. A separate fee will be quoted at that time. Treatment usually takes 12-24 months.

Full Treatment: If you decide to wait, treatment will be started when all permanent teeth have erupted. Full treatment usually takes 18-30 months. The length of treatment depends on the severity of malocclusion and orthodontic problems.

Proper Braces Care and Brushing Techniques
Brushing and flossing your teeth can be challenging when wearing braces but it is extremely important that you do both consistently and thoroughly.

Foods to Avoid During Treatment: Eating proper foods and minimizing sugar intake are essential during orthodontic treatment. Your braces can be damaged by eating hard, sticky, and chewy foods.
Hard foods : Nuts, Candy, Hard Pretzels
Crunchy foods : Popcorn, Ice, Chips, etc.
Sticky foods : Gum, Chewy Candy (Skittles, Taffy, Gummy Bears, Caramel, etc.)
Chewy foods : Bagels, Hard Rolls, etc.
Foods you have to bite into : Corn on the Cob, Apples, Carrots (cut these foods up into smaller pieces and chew on back teeth)
Chewing on Hard Objects (for example, pens, pencils or fingernails) can damage the braces. Damaged braces will cause treatment to take longer.
Hard Foods

Soft Foods

In the early 20th Century, not long after X-rays were discovered, medical professionals recognized their value as diagnostic tools: They could clearly reveal structures hidden inside the body without the need for risky surgery. At the dawn of the 21st century, a revolutionary new technology has entered the diagnostic arena. Today, Cone Beam Computed Tomography (CBCT) promises to change the way many dental problems are diagnosed and treated.
Cone Beam CT has some similarities with conventional X-rays, and also with the standard CT scans you would get in a hospital setting. But it's a quantum leap forward in technology and diagnostic precision. For the dentist, it offers the ability to visualize intricate structures inside the mouth, such as root canals, nerves and sinuses (air-filled spaces) in the jaw — in three dimensions — without surgery. For the patient, it can reduce the need for invasive procedures, shorten treatment time and offer the chance for a better outcome.
The detailed diagnostic images that CBCT provides have made it an essential tool in many dental specialties. But, as with any diagnostic tool that uses radiation, the medical benefits offered must be weighed against the (small) potential risks of the procedure.
How Cone Beam CT Works
X-rays, like visible light, are a form of energy on the electromagnetic spectrum. Just as light makes an image on photographic film (or a digital camera sensor), X-rays can also form an image. The difference is that energetic X-rays can penetrate bone and soft tissue, and reveal its hidden structure by their varying degrees of absorption; in other words, they form a grayscale picture of what's underneath the surface. But conventional X-rays are limited: Like a still-life picture, they show only one perspective on the scene.
Now imagine a "flip book" — the kind of small book made up of a series of pictures, each slightly different. When you rapidly page through it, you may see (for example) an animated cartoon or a still subject from different perspectives. If you could put together a flip book made from a series of X-ray "slices" of the same subject, taken at slightly different angles, you would be able to create an "animation" of the X-rays. And from there, it's only one more step to making a 3-D model.
That's exactly what CBCT scanners do. Using a rotating imaging device that moves around the patient's head, the scanner records between 150 and 600 different X-ray views in under a minute. Then, a powerful computer processes the information and creates a virtual model of the area under study. When it's done, the model appears as a three-dimensional image on a computer screen: It can be rotated from side to side or up and down, examined in greater or less detail, and manipulated in any number of ways — all without the patient feeling any discomfort... or even being present.
Where Cone Beam CT Is Used
The ability to see fine anatomical structures in 3-D has proven invaluable in treating conditions in many areas of dentistry.
Orthodontics: Having accurate information on the position of teeth and jaws helps determine exactly how and where teeth should be moved.
Dental implants: Detailed CBCT images are used to determine the optimum location for the titanium implants while avoiding nerves, sinuses and areas of low bone density.
Orthognathic Jaw Surgery and Temporo-mandibular Joint (TMJ) Disease: Patients benefit when the specialists who treat these conditions can evaluate their anatomy with the three-dimensional perspective that cone beam CT provides.
Oral Surgery: Treatment for tumors or impacted teeth is aided by the level of fine detail shown in these scans.
Endodontics: Dentists performing intricate procedures (like complex root canals, for example) can benefit from a clearer visualization of the tooth's anatomy.
Sleep Apnea: Imaging the tissues and structures of the nose, mouth and throat can aid in diagnosis and treatment of this dangerous condition.
Could Cone Beam CT Benefit You?
Each patient's situation is different, and must be carefully considered by a clinical professional before any test or procedure is performed. While CBCT delivers a smaller dose of radiation (X-rays) than many other diagnostic tests, it still carries a small risk — particularly for younger patients, or those with other health problems. As is the case for any medical procedure, all risks, benefits and alternatives are taken into account before the procedure is recommended.
Related Article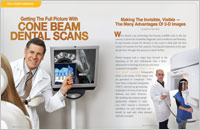 Getting The Full Picture With Cone Beam Dental Scans Dental imaging took a major leap forward at the beginning of the new millennium with a three-dimensional technology known as cone beam computed tomography (CBCT). The name comes from the cone-shaped beam of x-rays the CBCT machine projects as it rotates around a person's head, taking multiple images that are compiled into a 3-D picture by a computer. Find out what CBCT can reveal and how it helps a doctor to make a highly informed diagnosis and choice of treatment... Read Article