The American Association of Orthodontists recommends that all children see an orthodontist by at least age seven and sooner if something is obviously wrong before age seven. Fortunately, most young patients don't need anything more than observation while the permanent teeth are growing into place.
Many young patients have problems, which will not, or should not wait. Most orthodontic problems are inherited and cannot be totally prevented; however something can usually be done before these problems become more difficult and more expensive to manage.
It is advisable to consult with an orthodontist prior to having your dentist remove any baby teeth or permanent teeth. To ensure the best overall dental and facial development, all patients should have an orthodontic consultation sometime between the ages of four and seven.
Dr. Bock offers early examinations and observation consultations. Contact us to schedule a complimentary consultation.

Classifications of Teeth
The classification of bites is divided into three main categories: Class I, II, and III. This classification refers to the position of the first molars, and how they fit together.
Class I
Class I is a normal relationship between the upper teeth, lower teeth and jaws or balanced bite.



Class I normal





Class I crowding


 


Class I spacing

 

Class II

Class II is where the lower first molar is posterior (or more towards the back of the mouth) than the upper first molar. In this abnormal relationship, the upper front teeth and jaw project further forward than the lower teeth and jaw. There is a convex appearance in profile with a receding chin and lower lip. Class II problems can be due to insufficient growth of the lower jaw, an over growth of the upper jaw or a combination of the two. In many cases, Class II problems are genetically inherited and can be aggravated by environmental factors such as finger sucking. Class II problems are treated via growth redirection to bring the upper teeth, lower teeth and jaws into harmony.
 
Class II division 1


 

 
Class II division 2


 

Class III
Class III is where the lower first molar is anterior (or more towards the front of the mouth) than the upper first molar. In this abnormal relationship, the lower teeth and jaw project further forward than the upper teeth and jaws. There is a concave appearance in profile with a prominent chin. Class III problems are usually due to an overgrowth in the lower jaw, undergrowth of the upper jaw or a combination of the two. Like Class II problems, they can be genetically inherited. Class III problems are usually treated via surgical correction of one or both jaws.
 
Class III functional or dental


 

 
Class III skeletal


 

Orthodontic Problems
 
Overjet
Upper front teeth protrude



 

 
Deep bite
Upper front teeth cover lower front teeth too much


 

 
Underbite
Lower front teeth protrude



 

 
Open bite
Back teeth are together with space between the front teeth



 


Crowding
Upper and/or lower teeth are crowded



 


Excess Spacing
There is excess space between teeth



 


Mid-Line Misalignment
Mid-lines of upper and lower arches do not line up


 


Crossbite
Upper back teeth fit inside lower teeth



Phases of Treatment
Phase I: Treatment usually takes 12 to 18 months and is done between the ages of 7-9. A variety of appliances may be used to correct specific problems.

Maintenance / Recall Phase: During the time between the first and second phase the patient will be seen every few months per year. This is to monitor the eruption of the permanent teeth and exfoliation of primary teeth.

Phase II (if required): During the first phase of treatment Dr. Bock has no control over 16 unerupted permanent teeth. If they grow in and problems still exist, further treatment, known as Phase II, will be required. A separate fee will be quoted at that time. Treatment usually takes 12-24 months.

Full Treatment: If you decide to wait, treatment will be started when all permanent teeth have erupted. Full treatment usually takes 18-30 months. The length of treatment depends on the severity of malocclusion and orthodontic problems.

Proper Braces Care and Brushing Techniques
Brushing and flossing your teeth can be challenging when wearing braces but it is extremely important that you do both consistently and thoroughly.

Foods to Avoid During Treatment: Eating proper foods and minimizing sugar intake are essential during orthodontic treatment. Your braces can be damaged by eating hard, sticky, and chewy foods.
Hard foods : Nuts, Candy, Hard Pretzels
Crunchy foods : Popcorn, Ice, Chips, etc.
Sticky foods : Gum, Chewy Candy (Skittles, Taffy, Gummy Bears, Caramel, etc.)
Chewy foods : Bagels, Hard Rolls, etc.
Foods you have to bite into : Corn on the Cob, Apples, Carrots (cut these foods up into smaller pieces and chew on back teeth)
Chewing on Hard Objects (for example, pens, pencils or fingernails) can damage the braces. Damaged braces will cause treatment to take longer.
Hard Foods

Soft Foods

Bad Breath, or halitosis, is an embarrassing problem that affects millions. To combat it, many people use breath mints, chewing gum, sprays and mouthwashes. In fact, Americans spend billions of dollars each year on these products — even though they offer only a temporary fix. Getting rid of persistent foul odors on the breath in a lasting way requires a little detective work on the part of dental professionals.
Bad breath can affect anyone temporarily — think of "morning breath," or the way your mouth smells after eating onions or drinking coffee. Some people, however, exhale noticeably unpleasant odors throughout the day, every day. That's when it is important to find the cause of the problem, so a lasting solution can be achieved.
Causes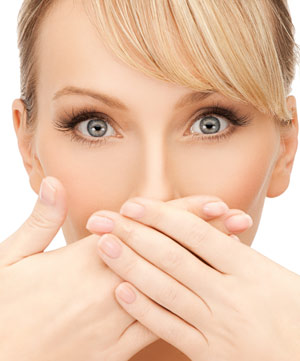 Most often, bad breath originates in the mouth, from trapped food particles that are then processed by oral bacteria. The most common location for mouth-related bad breath is the back of the tongue, where large quantities of naturally occurring bacteria can thrive on food remnants, dead skin cells and post-nasal drip (mucus coming down your throat from the nose). The waste products of these bacteria include volatile sulfur compounds (VSCs), which have a smell resembling rotten eggs. Other places where bacteria and food particles can be trapped are between the teeth, beneath the gums, and in oral appliances or dentures. Poor oral hygiene sets the stage for these problems, as well as for tooth decay and gum disease, which can also cause foul odors.
It's possible for other health conditions and habits to affect your breath. Halitosis may occur in people who have a sinus or bronchial infection, an oral yeast infection (which can be caused by antibiotic use), or even a systemic (general body) disease such as diabetes, kidney failure or a liver malfunction. A chronically dry mouth (xerostomia), which is often a side effect of certain medications, and tobacco use can also contribute to this problem. Even stress, dieting and hormonal changes can affect your breath.
How Dentistry Can Help
Since bad breath most often originates in the mouth, the dental office is the best place to start in your quest for consistently better-smelling breath. After a thorough examination, any of the following might be recommended:
Oral hygiene instruction. It might be that you could benefit from a demonstration of how to brush and floss more effectively, or how to better clean your dentures. You can also be instructed on how to use a tongue scraper to clean the back of your tongue if necessary.
Professional dental cleaning. Food particles, bacteria and calcified deposits can become trapped where you can't reach them — but special dental instruments can. Regular professional cleanings are a great way to promote good oral health in general and good-smelling breath in particular.
Treatment of tooth decay. Bad breath may be caused by large, open cavities that need to be filled, or old, defective fillings that need to be repaired.
Treatment of gum disease. More advanced forms of gum disease cause the gums to separate from the teeth, forming pockets in which bacteria can thrive. If you have gum disease, you may need periodontal (gum) therapy, which can include a deep cleaning of the roots of your teeth, antibiotics, and, in advanced cases, periodontal surgery.
Treatment of infection. Infection that doesn't originate in your mouth needs to be treated by the appropriate medical professional. Whatever the cause of your bad breath, we are here to make sure you get the treatment you need.
Related Articles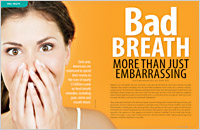 Bad Breath Bad breath has a significant impact both personally and socially on those who suffer from it, as well as those on the receiving end. It may be the result of poor oral hygiene, or a sign of a more serious underlying condition. Find out what causes bad breath and what you can do about it... Read Article
Oral Hygiene Behavior — Dental Health for Life The best tools for maintaining your oral health and minimizing dental problems are a quality toothbrush, toothpaste, a roll of dental floss, approved mouthwash and good diet. This article details a winning game plan for oral health... Read Article